Organic Chocolate Liquor*, Organic Cane sugar, Organic Cocoa butter*, Blueberries (Sugar, Sunflower oil), Organic Lecithin (Soy), Organic Vanilla extract, Natural Blueberry flavor.
Manufactured in a facility that also processes peanuts, tree nuts, and milk.
*Rainforest Alliance Certified - a better future for people and nature. www.ra.org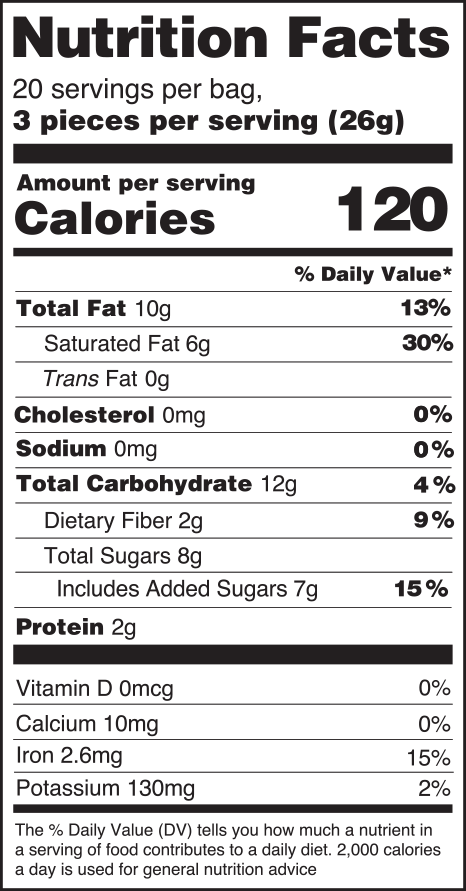 83%
of reviewers would recommend this product to a friend
I recommend this product
Great chocolate
Really happy to find I could order this direct since costco is out of stock so often. This is great dark chocolate. Shipping was fast and easy. Very good value if you get the 6 pack. Pretty keto friendly too.
I don't recommend this product
Unfortunately not good
I've ordered your product in the past & tho expensive, it was very good. However, this time it wasn't, due to the high temperatures, the chocolate really didn't travel well. It had melted, had changed color (a very light brown) & tasted somewhat chalky…not rich & smooth. Good lesson: don't order chocolate in the summer!
Originally found this product at Costco and fell in love with it. So sad Costco no longer carries it.
It is the only product I have found that checks all of my boxes. It's organic,vegan,non GMO,rain forest alliance, not processed with alkali,over 70% cacao,low in carbs sugar and calories. Every single one of these things are a perfect healthy snack for a chocolate loving diabetic. 1 serving of 3 bars fits all my criteria for not raising my blood sugar and feels like a total CHEAT as well as curbing my chocolate fix! Oh yeah, it's delicious too!
I recommend this product
Absolutely the best!
You just can't go wrong with either the Blueberry or the Cherry. Superb! When my hips can afford it, I stock both in my house. Delicious and healthy - a winning combination.
Finest Quality
I have been buying for a very long time. Excellent
service and prompt delivery.....highly recommend!